Friary Church of Our Lady of Guadalupe
Designed in the English Franciscan Gothic Style, the friary church of Our Lady of Guadalupe was solemnly consecrated by Bishop Hart on August 25, 2001, and the program of perpetual adoration was initiated on October 28, 2001.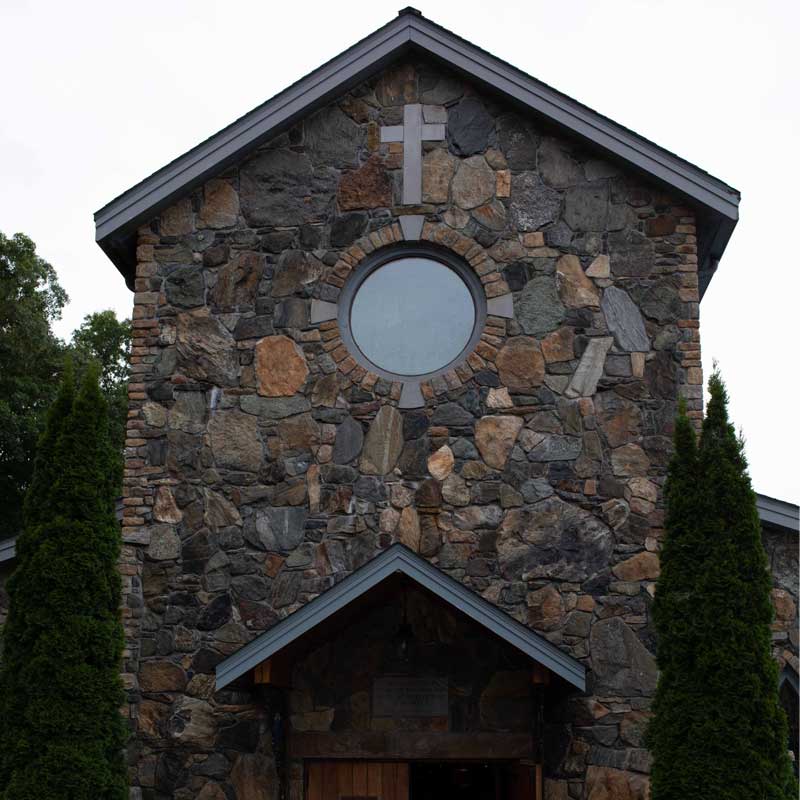 "Am I not here, I, who am your Mother? Are you not under my shadow and protection? Am I not the source of your joy? Are you not in the hollow of my mantle, in the crossing of my arms? Do you need anything more? Let nothing else worry you, disturb you."
Words of Our Lady of Guadalupe to Juan Diego on Mount Tepeyac in 1531.
The Church of the Our Lady of Guadalupe has an interesting history. The Tudor style church was initially erected by the Presbyterians in 1853 but abandoned in 1869. The local parish of the Immaculate Conception, which was without a church of their own, obtained and renovated the structure. It was consecrated in 1909 and remained in use until damaged by a fire in 1972.
It was abandoned and left standing without ever having been repaired.
Some local men received permission to demolish the structure and discovered that much of the fire damage was superficial. They carefully dismantled the church and stored the damaged woodwork. From this wood, as well as newly-milled wood from several other benefactors, the friary church would be constructed. With the arrival of the friars in 1993, and the eventual acquisition of altars, pews and stained glass from other churches, the intermittent work of building the friary church began. It would be solemnly consecrated by Bishop Daniel A. Hart on August 25, 2001 and on October 28, 2001 it would become a center of Perpetual Adoration of the Blessed Sacrament.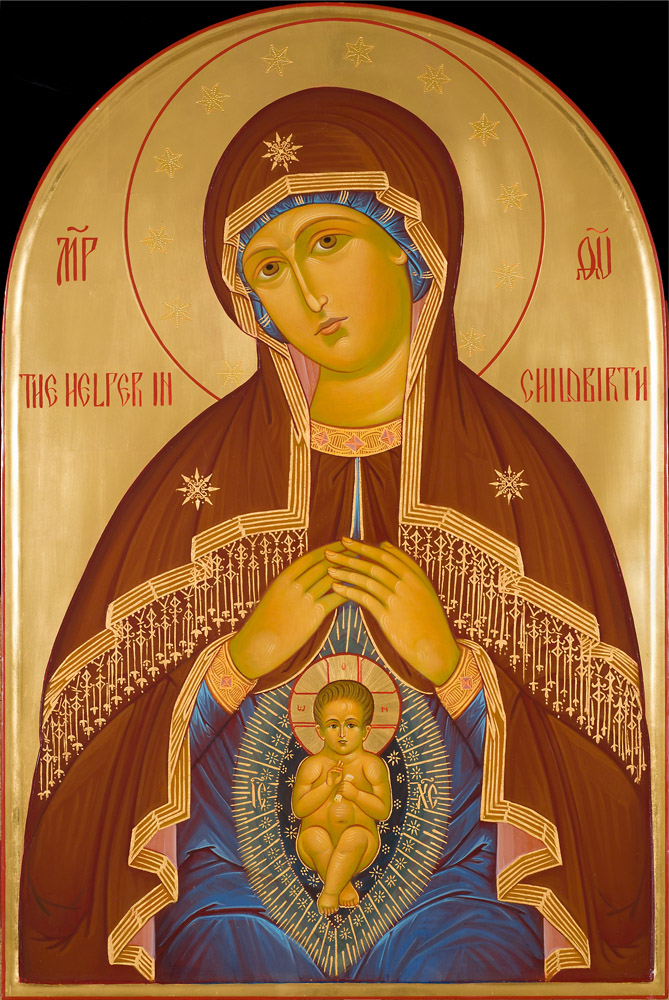 The Blessed Virgin Mary,
"The Helper in Childbirth"
Icons are named for shrines and places where miraculous events occurred, whereas some are simply titled to give praise. Still other icons are given titles in recognition of a specific intercessory role.
While there is only one Virgin Mary, scholars have catalogued more than 1100 distinct icons of the Mother of God, with each icon emphasizing a specific facet of her life, personality and intercessory role.
 This icon of the Mother of God is called "The Helper in Childbirth". The early versions of this icon appeared in Western Russia in the early 19th Century and was made for a very practical and urgent need – the difficulties in conceiving and giving birth.
This icon shows the Mother of God folding her hands in prayer over her heart. Under this protective arch of her hands, we can see the newly conceived Christ Child, emanating from inside her womb in an almond-shaped halo of light. To show He is the "Logos", or Word of God incarnate, He holds a small white scroll. She is filled and radiant with light from inside.
Originally, midwives carried this icon to help alleviate the pains and dangers in a time when many women were dying in childbirth. As such, it belonged more to the life of lay people and popular piety than the public, liturgical life of the Church and would rarely be venerated in a church, or depicted on a large panel, since it needed to be small enough to carry among the other urgent, portable tools used by a midwife.
This icon is therefore a prayer, from one mother to another: "Mother of God, you know my anxiety. Help me in this time of danger and happiness". It is an icon of remarkable empathy, from one Birth-Giver to another birth-giver. Yet an icon cannot be closed in its meaning and use; it must be open to everyone at all times, in all circumstances, as the Mother of God herself is open to us in all our needs. It is not an icon only for women in labor.
One can pray to overcome a difficulty in conceiving, for assistance in carrying a child to term, for joy and thanksgiving for her protection and guidance in helping to bear and raise children, or even for consolation at the loss of a child.
But what use is this icon of Divine Maternity to the single person, or the celibate? Ultimately, we can all stand in front of her, and pray in thanksgiving for simply having been born.
The Mother of God, in turn, is also present to assist us in bringing Christ to the world.
This icon is on display for public veneration at our Friary Church.
Iconographer – Marek Czarnecki     www.seraphicrestorations.com
Photography – Philip Fortune     www.fortuneworks.com